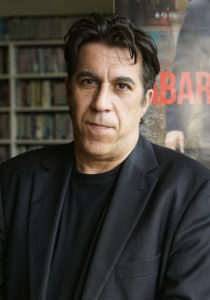 Bruno de Almeida is an independent filmmaker that navigates between fiction and documentaries as well as a composer. Recently he has been working on the CINEMA IMAGINADO Trilogy, a soundtrack for imaginary films with a sonic hybrid of jazz, funk and spoken word.
The new album CINEMA IMAGINADO (Volume 2) was released on January 2023 and is now available on digital platforms and CD. The first volume CINEMA IMAGINADO (Volume 1) came out in March 2022 on Digital platforms and CD and is now available on a special Vinyl edition.
Bruno de Almeida was born in Paris on March 11th 1965 of Portuguese origins. He lives between New York City and Lisbon since 1985. He stared his career in the arts as a musician playing in the downtown New York music scene in the mid eighties. He collaborated with choreographers and artists and eventually became a filmmaker.
In 1993, his first film THE DEBT won the award for best short at the Cannes Film Festival Critic's Week.
His feature debut ON THE RUN starring Michael Imperioli and John Ventimiglia (from the Sopranos) won, in 1999, the award for best film at the Ourense Film Festival, in Spain. On the Run was nominated for a Critic's award at the Paris Film Festival and for an Open Palm at the Gotham Awards in New York in 2000. It was released theatrically and broadcast in Europe and in the US. It had it's cable debut at The Independent Film Channel in 2001 and was released on DVD in 2002 becoming a cult classic.
His second feature THE ART OF AMÁLIA, was a documentary about the legendary singer Amália Rodrigues, which was released theatrically and had a long run across the US in 2000. The film was broadcast in the US and Europe and was released on DVD in July 2004 by EMI. It went double platinum as the top-selling DVD in Portugal for four consecutive weeks.
His third feature CANDIDATE VIEIRA a documentary about the satirical Portuguese rock star Manuel João Vieira, who ran for presidential candidate in 2001, was released in the summer of 2005 on a double DVD along with a concert video of his band ENA PÁ 2000 (Wholly Cow 2000) 20 YEARS PEDALING ON DUNG also directed by Bruno.
Bruno has also directed OTHER PROJECTS that include other documentaries, art installations, commercials and music videos. From 1999 to 2004 he directed several projects for the Independent Film Channel. Bruno collaborates frequently with choreographer Francisco Camacho for which he created film works. He also made a film about Camacho's solo THE KING IN EXILE.
In 2005, he completed his fourth feature, THE COLLECTION, a compilation of 24 short stories that were developed and created with a group of New York actors and writers over a four year period. It was released on DVD in April 2006. It is available on DVD and on Vimeo's On Demand.
In 2007, Bruno's fifth feature THE LOVEBIRDS, starring Michael Imperioli, Ana Padrão, John Ventimiglia, Nick Sandow, Drena De Niro, Joaquim de Almeida, among others, won the Jury Prize at Fantastporto Film Festival director's week and a the Best director and screenplay awards at the Ourense International Film Festival. It is available on DVD and on Vimeo's On Demand.
The feature documentary 6=0 HOMEOSTÉTICA, about the satirical art group Homeostética, won a special mention award at the DocLisboa Festival in 2008 and was released on DVD in Europe.
His seventh feature BOBBY CASSIDY, Counterpuncher, a documentary about a retired boxer from New York, premiered at DocLisboa film festival in October 2009 and was release theatrically. It is available on DVD and on Vimeo's On Demand.
In 2010, Bruno created a multimedia installation called ESSE OLHAR QUE ERA SÓ TEU with guitarists Tó Trips and Pedro Gonçalves (from Dead Combo) which was exhibited at CCB/The Berardo Museum in Lisbon and later as a concert-film. Bruno made the film and played guitars and turntables. It premiered at the Vila do Conde Film Festival.
In 2011 Bruno directed his eight feature OPERATION AUTUMN, a political thriller about the 1965 tragic killing of General Humberto Delgado by the Portuguese fascist police, starring John Ventimiglia, Ana Padrão, Diogo Dória and Camané among others. Based on the book "Humberto Delgado, Biography of The Fearless General". It was release theatrically in 2012 and it is available on Cable and DVD.
In 2012 Bruno made the film THE LECTURE, a 30 minute film commissioned by Guimarães-2012 to be shown in the European Capital of Culture in early 2013. It stars John Frey and Ana Padrão and Marcello Urgeghe. It is available on DVD and Vimeo.
His ninth feature FADO CAMANÉ was a documentary on the fado singer Camané. It was released theatrically and on DVD in 2014. Its is available on Vimeo's On Demand.
CABARET MAXIME stars Michael Imperioli, Ana Padrão, David Proval, John Ventimiglia, Nick Sandow, Mike Starr, Drena De Niro, John Frey, Manuel João Vieira among others. It had a successful theatrical run in Portugal and it opened in the USA in 2020. The film won several awards including Best Feature and Best Actress (Ana Padrão) at SPA Authors Awards in 2019. It is available on all digital platforms and DVD.